BACK
There were only a small number of works GELÄNDEMAX's built by NSU, but there are more replica GELÄNDEMAX's, which were built using original NSU GELÄNDEMAX spare parts.
SIX GELANDMAX's WERE ENTERED IN THE 1954 CATALINA RACE, BUT A 250 SPORTMAX SPECIAL WON THE 350 CLASS RODE BY DAVE EKINS.
more
IN 1958 AMERICAN DEALER/IMPORTER FOR THE WEST COAST "EARL FLANDERS" WANTED A MACHINE THAT WOULD COMPETE IN THE OFF-ROAD SCRAMBLES RACES HELD IN AMERICA, SO NSU BUILT 230 SPECIALS BASED ON THE SUPERMAX CALLED THE "S20" ( 12 were sent to Yugoslavia- why? were these part of the 230 or were there 242 built?,if you know please
E-MAIL
me)
Motorcyclist Feb 1958 ad
Shorter mudguard, smaller headlamp, fuel tank from the MAXI, wide off road handlebar, high mounted foot rests, high mounted exhaust system, shortened rear mudguard, front fork dampers . The engine was 20 bhp, but there was a tune-up-kit available to increase performance( see distributors-malone's ) .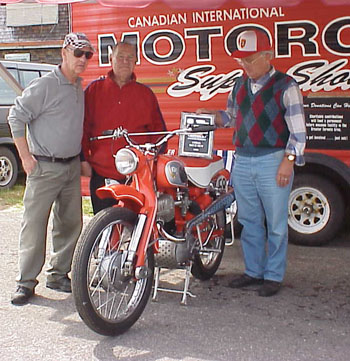 NSU restorer and specialist Kurt Boeckmann (red and white hat). Follow these links for more
http://www.supershowevents.com/magazine/articles/04nsu.html
and
www.supershowevents.com